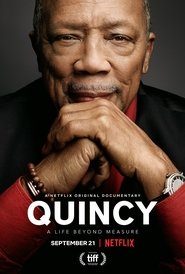 Quincy
An intimate look into the life of icon Quincy Jones. A unique force in music and popular culture for 70 years, Jones has transcended racial and cultural boundaries; his story is inextricably woven into the fabric of America.
Duration: N/A
Release: 2018
The Bandit
The Bandit
THE BANDIT is a film about 70s superstar Burt Reynolds, his best friend, roommate and stunt-double Hal Needham, and the making of their unlikely smash-hit SMOKEY & THE BANDIT. The…
Down the Deep, Dark Web
Down the Deep, Dark Web
What do you know about the Darknet? Silk Road, hitmen for hire and outlets for the most depraved aspects of human behaviour? This film delves beyond this notoriety to reveal…
Whose Streets?
Whose Streets?
A nonfiction account of the Ferguson uprising told by the people who lived it, this is an unflinching look at how the killing of 18-year-old Michael Brown inspired a community…
Killer Legends
Killer Legends
Delving into our collective nightmares, this horror-documentary investigates the origins of our most terrifying urban legends and the true stories that may have inspired them.
Ronaldo
Ronaldo
Filmed over 14 months with unprecedented access into the inner circle of the man and the sport, this is the first official and fully authorised film of one of the…
Supersonic
Supersonic
From award-winning director Mat Whitecross and featuring extensive unseen archive footage, Supersonic charts the meteoric rise of Oasis from the council estates of Manchester to some of the biggest concerts…
Beatles Stories
Beatles Stories
A big fan of The Beatles growing up in the 60s, Seth Swirsky noticed that whenever he heard someone relating a story about themselves and The Beatles, he was "all…
Sun Ra: A Joyful Noise
Sun Ra: A Joyful Noise
Robert Mugge filmed jazz great Sun Ra on location in Philadelphia, Baltimore, and Washington, D.C. between 1978 and 1980. The resulting 60-minute film includes multiple public and private performances, poetry…
David Blaine: Beyond Magic
David Blaine: Beyond Magic
In his most revealing performance yet, the one-hour special features an exploration into Blaine's trademark style of street magic as he once again stuns his audience.
Chuck Norris vs Communism
Chuck Norris vs Communism
A mesmerising thriller about the magic of film and the power it has to change lives.
Heaven Adores You
Heaven Adores You
Heaven Adores You is an intimate, meditative inquiry into the life and music of Elliott Smith. By threading the music of Elliott Smith through the dense, yet often isolating landscapes…
Floored
Floored
Enter a world where pandemonium reigns and reckless ambition rules: the trading floors in the financial canyons of downtown Chicago. Here, men use strange hand signals to buy and sell…