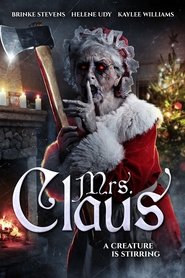 Stirring
Students attending a Christmas party at a sorority house with a sinister past are stalked by a bloodthirsty killer disguised as Mrs. Claus.
Duration: N/A
Release: 2018
The Viral Demon
The Viral Demon
The Viral Demon recording is a wakeup call to understand the truth of what's happening to our world ever since the Viral Demon was accidentally released from its prison. Spread…
The Thing
The Thing
Scientists in the Antarctic are confronted by a shape-shifting alien that assumes the appearance of the people it kills.
Children of the Corn 666: Isaac's Return
Camp Blood 5
Camp Blood 5
Raven, the only survivor of a previous massacre, returns to the forest to avenge her fallen friends and stop Camp Blood Killer once and for all.
Lilith
Lilith
A horror anthology follows the Demon Lilith who punishes men for their indiscretions against women.
Spring
Spring
A young man in a personal tailspin flees the US to Italy, where he sparks up a romance with a woman harboring a dark, primordial secret.
My Bloody Valentine
My Bloody Valentine
Twenty years ago in the sleepy mining town of Valentine Bluffs, a fatal mining disaster occurred on Valentine's Day while some of the crew was decorating for a party. The…
Sorceress
Encounter
Encounter
A newlywed couple Ted and Lauren rent and old farm house to do a thesis on orbs and set up cameras, Strange ghostly noises and hauntings occur at night. Ted…
The Midnight Game
Evolution
Nail Gun Massacre
Nail Gun Massacre
Following the brutal rape of a young woman by a gang of construction workers, a mysterious figure wearing a motorcycle helmet and driving a gold hearse begins hunting the perpetrators…